How to play Kendama
Here are the first steps of how to play kendama laid out in the order of how we would teach you in person.
Get The Grip
Align the Ken (handle) upright, spike towards the sky, big cup facing your chest
String hole on the inside of your body to prevent tangling your hand in the string
Nestle the thumb and index fingertips below the big and small cup
Allow your other three fingers to rest naturally along the rest of the ken, however feels most comfortable
The Spin
Use the top hole of the Tama (Ball) as a visual reference - the hole you'll be aiming for is directly on the opposite side
Allow the tama to hang below the hand holding the ken at a rest, not swinging
Grip the tama with your fingertips around the sides and give it a quick snap of the fingers to get the ball spinning
Lightly grip the string above the tama for a moment to get rid of any wobble in the spin, so the tama is spinning steadily below your ken-hand
Use Your Body
(It's easier when standing up!)
Stand with feet roughly shoulder-width apart, slide one foot slightly forward a few inches for a more balanced stance
Bend your knees slowly, lowering your whole body
Straighten the legs, lift with your body, and lightly pop the ball straight upwards, about to shoulder/eye level
Once the tama is in the air, move your ken hand out of the way and line up the spike below the tama, ready and waiting
Let the ball fall and come to rest on the spike, don't stab!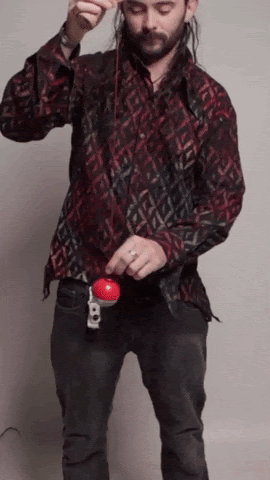 Laced!
Follow these steps and you'll have that first spike down in no time!Remember:
Mistakes are just learning opportunities.If you mess up, take a moment to consider what you can do differently, and then try again.
Take your time and remember to breathe.
The Spin Spike is only your first step - once you've mastered it, try without the spin!This is one of our favorite tricks to start new players with, and once you can do it, you'll have all the skills you'll need to teach other new players, too!
1. How to Spike Full Tutorial
3. THE MOST IMPORTANT SKILL IN KENDAMA
FIRST SPIKE builds confidence and an appetite to learn more. HOLE CONTROL control is where you need to get to to make Kendama fun.  When you can not only catch it on the cups but be able to spike from any catch on any cup.
Game of K.E.N.
Just like playing H.O.R.S.E. with your friends on the basketball court and can be played with 2 or more people.

Land a trick, and if they can't match it in two tries, they get a letter. On your last letter, you either get a third try OR you can use a Prove-It to stay in the game. First person to land three letters on their opponent wins.

Check out this video of Boogie & Reed to get an idea of how a game looks when played!
Race to Lace
Pick a trick, play with as many people as you want, the first player to land it wins!

Race to Lace can be played around a single trick, or you can choose multiple tricks to play a whole round. Click the video to watch Sweets, Coop, and Josh play an EXTREME version of Race to Lace with some Gel Blasters.
Candlestick Battle
Candlestick battles are the kendama version of Jousting - much safer! Requires at least 2 people, and gets more fun the more you include.

Without using the free arm or running into each other, players navigate a designated space trying to knock other players' candlesticks over. The last person with a candlestick still standing is declared the winner!
Open: Tournament-Style
Open-style competition is the most common way to compete in the kendama world and also has its roots in Japan, just like kendama.

Joshua Grove and Cooper Eddy break down an entire match so you can see all the different scenarios that can take place in this video. Go out there and practice from a list of our tricks to compete in a future tournament, or just with your friends!
INDIVIDUAL CHALLENGE LIST
- CHALLENGE YOUR SKILLS LEARNED ABOVE -

ONCE YOU LAND A TRICK 3 TIMES, CHECK IT OFF THE LIST AND MOVE ON TO THE NEXT SKILL.